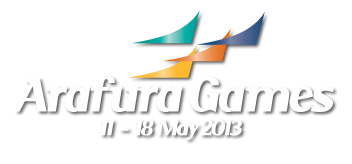 The Northern Territory Government announced on 31 October 2012 that the 2013 Arafura Games are deferred. Sadly this means that Sepaktakraw and 22 other sports will not be able to participate in this international competition enjoyed biennially since the Arafura Games' inception in 1991.
Official bodies in many of these sports have increasingly recognised Arafura Games events nationally as steps in training and emerging talent development. And formal and informal sporting and community international relationships have steadily strengthened.
In 2011 the International Sepaktaraw Federation in Singapore accredited the Association's Arafura Games Sepkatakraw event, recognising it as part of the international competition event circuit. Its the only accredited international Sepaktakraw event held in Australia. The 2011 event included teams from Indonesia, Malaysia, Thailand, China, Macau, Brunei, and Singapore. Japan was absent for the first time because of its earthquake.
The Australian men's Sepaktaraw team are all Darwin men, who first played together for the Northern Territory at the 2009 and the 2011 Arafura Games.
In the inaugural 2011 Sepaktaraw World Cup in July in Kuala Lumpur this men's team from Darwin represented Australia as one of 24 countries invited to compete. The team trained in 2012 in both Darwin and Thailand, and in August won bronze medals in its class at the international Kings Cup tournament in Thailand.
The Association looks forward to working with the Government in finding the best fit for Sepak taraw's events in a revitalised Arafura Games, in supporting the Games' financial viability, and extending relationships with local and international sporting communities.
We are also looking for ways to organise our own local and international Sepaktakraw events for men and women in the future.
The Northern Territory Government's media release can be found here
Let us know what you would like to see happen for Sepaktakraw – post on FaceBook or email us . All comments are very welcome.