The 1st ISTAF Sepak Takraw World Cup has been run and won, and members of the Australian squad are now looking forward to an intensive training program in Thailand in the lead up to the prestigious 26th King's Cup.
After arriving in Kuala Lumpur on the 19th of July, the Australian Team discovered they were in a tough group and had some difficult matches ahead of them against Japan, Brunei and Cambodia. Australia suffered disappointing losses on the opening days to both Japan and Brunei, and fought hard against Cambodia but couldn't make it past the first round. Under the new ISTAF world ranking system Australia is ranked 23rd in the world – although the team is confident they can make it into the top 20 teams in the world before the end of the year.
Game scores:
| | | |
| --- | --- | --- |
| Australia vs. Brunei | Australia vs. Japan | Australia vs. Cambodia |
| 2 – 15 | 4 – 15 | 11 – 15 |
| 2 – 15 | 8 – 15 | 7 – 15 |
| 4 – 15 | 0 – 15 | |
(Match against Cambodia best of 3 sets)
Check out sepaktakraw.org for updates on International Sepak Takraw Tournaments and the upcoming Super Series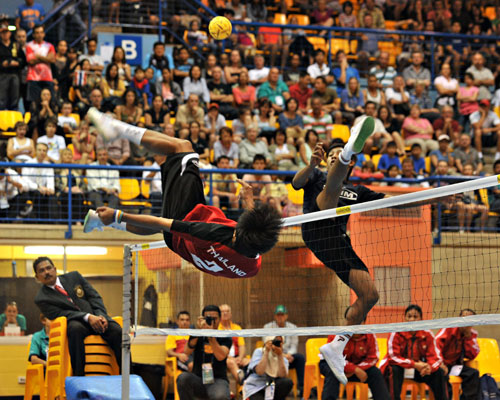 The Arafura Games are over for another year. Congratulations to the Sports Authority of Thailand who won gold in both the regu and doubles events! Congratulations also go to the Terengganu State teams from Malaysia who took out silver in both regu and doubles, and China who came in close behind with bronze medals in both competitions.
Thank you to everyone who attended this year to compete or cheer, and a special thanks goes to the volunteers and local organisers for making it all happen, and the international referees for keeping us on track.
We're intending to make the 2013 Arafura Games sepak takraw competition the biggest yet with 16 mens teams and hopefully, for the first time, a womens competition consisting of at least 8 teams.
Hope to see you- the same smiling faces – and many more, in two years time!