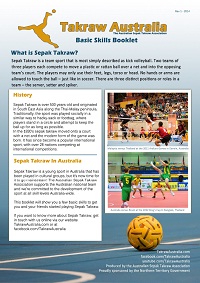 We've been working on a Sepak Takraw Basic Skills Booklet that is finally ready!
The booklet has 8 pages, and provides an overview of the sport including: history, the rules, sepak takraw in Australia, and most importantly – the basic skills and how to start playing!
The booklet is provided in PDF format and can be printed to A4 size.
For a higher resolution copy – suitable for printing A3+ posters please contact us.
To view/download the complete booklet (8 pages)
please click here (15mb file)
If the complete booklet is too large to download at once, you can download the individual pages below.
 8. Putting it Together (2.4mb)
This booklet would not have been possible without the support of the Northern Territory Government's Department of Sport and Recreation's Grass Roots Grants. So thankyou to everyone from the Northern Territory Government who has supported us.